REXANTHONY
COMPOSER ::: ARRANGER ::: PERFORMER

"WAR ROBOTS"
album, 2008


The project realized by Rexanthony in 2008 is the new album "War Robots":




10 unpublished songs composed, arranged, vocalized, performed and recorded by Rexanthony in his studio during the early months of 2008. "War Robots" (genre post advanded electronic, a crossover through various styles such as psycho-trance, post-techno and minimal-electro) has been concepted to support human rights and a higher social problems consciousness by sounds and lyrics involving young and trend generations.
Among the songs, particularly worthy of note are WARSTOP (characterized by a new and powerful rthytm), PSYCHOWARS (minimal electro), CRIME (psycho trance), WHY THESE WARS (the first videoclip supporting "War Robots" album has been shot for this track), MYLIFE (vocal trance), GUANTANAMO (focused on the inhuman and degrading treatments and wishing an immediate closing of the such anachronistic jails), IRAQ (wishing an immediate and pacific Iraq war resolution).
The production label Musik Research has planned to release the album "War Robots" exclusively by worldwide digital downloading at first , then by traditional supports and relative physical distribution.

---

"WAR ROBOTS"
(2008)
Artist: Rexanthony
Composed, arranged, performed, vocalized, by Rexanthony
Published by Rai Trade
Produced by Musik Research (april 2008)
Worldwide digital distribution: all worldwide digital stores
Physical distribution: Hitland / Self
Physical export: Hitland (Ghilardi St)

Format: digital downloading (192 mp3, 320 mp3, WAV), (May 08)
Format: LP-Limited (6 songs), (August 08),
Format: CD-digipack (10 songs + "Crime" video), (October 08)

SYNERGY / FRIENDS:
- Roland -
- Apple -
- Subaru -
- Gibson -
- Amnesty International -



---

"WAR ROBOTS" playlist

[01] GOING PARTY 5:43
[02] WARSTOP 4:47
[03] PSYCHOWARS 4:34
[04] LOVE AND PEACE 4:48
[05] WAR ROBOTS 5:18
[06] CRIME 4:49
[07] WHY THESE WARS 4:54
[08] MYLIFE 5:37
[09] GUANTANAMO 6:13
[10] IRAQ 5:10l


---

------ Audio samples ------
GOING PARTY
WARSTOP
PSYCHOWARS
LOVE AND PEACE
WAR ROBOTS
CRIME
WHY THESE WARS
MYLIFE
GUANTANAMO
IRAQ


---

REXANTHONY "WAR ROBOTS" (album 2008)
official mixed trailer




REXANTHONY ----- 'Why These Wars' videoclip -----
track taken from "WAR ROBOTS" (album 2008)



---
"WAR ROBOTS" technology
Computer: Apple Mac Pro 3,2 GHz
Interface: Apogee
Software: Logic
External sources: Roland JP 8000, Kurzweil 2006,
Korg M3, Yahama DX7 Centennial, Korg MS 20, Prophet 600
External master recorder: Fostex DVD PD606


---

"WAR ROBOTS"
digital distribution - Musik Research exclusive (C)


Ericsson AB
FNAC Direct
France Telecom, S.A.
Fuego
GBox
Gracenote
Groove Mobile
HOODINY
iMusic
iMusic (Israel)
lala media
Liquid- Anderson Merchandisers
MediaNet
Megabop Records Ltd t/a Mbop Digital
MOD Systems
Mohen, Inc. d.b.a. Spiral Frog
Myxer
Netville

---


REXANTHONY - "CRIME" video
[still preview]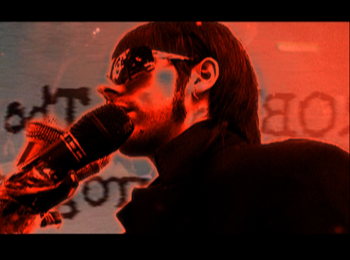 ---